Thanks to a solid experience in the upholstery sector, our team works constantly with the aim of overcoming the limits of traditional production technologies.
Based on a solid foundation in the upholstery sector, our team is constantly working with the objective of exceeding the limits of traditional production technology. This is what led to the birth of Polimex®: A technological solution trademarked and exclusive to Superevo. Polimex is a composite material ideal for creating load bearing structures for soft furnishings, due to its specific blend of polystyrene and minor percentage of polyurethane (which lends structural integrity). Compared with traditional furnishings, those made with Polimex® are lighter, can take on more complex forms, do not require an initial financial outlay and are sustainable and fast to produce.
Throughout history different materials have been combined to obtain finished products with improved characteristics. In materials science, a composite material is one comprised of multiple different simple materials. Each compound is congruous with a specific phase of the process, so a composite material by nature has a non-homogenous structure; the materials which make up a composite material are separated by a net interface of zero thickness each of which has its own chemical physical properties at a macroscopic and structural level. By sandwich panels (or sandwich structures) we mean an element comprised of two external resistant layers, called the "skin "or "face", separated by a connective internal material known as the "core".

POLIMEX® is the name of a patented material made up of various combinations of skin and core. The skins are comprised of various types of polyurethane of elevated mechanical resistance, adapted to the eventual usage of the finished product. The skin contributes to both the flexural and impact resistance.
Varying densities of expanded polystyrene foam are used for the core depending on the required end result; by "foam" we intend the cellular material obtained by the dispersion of a gas into a solid plastic material.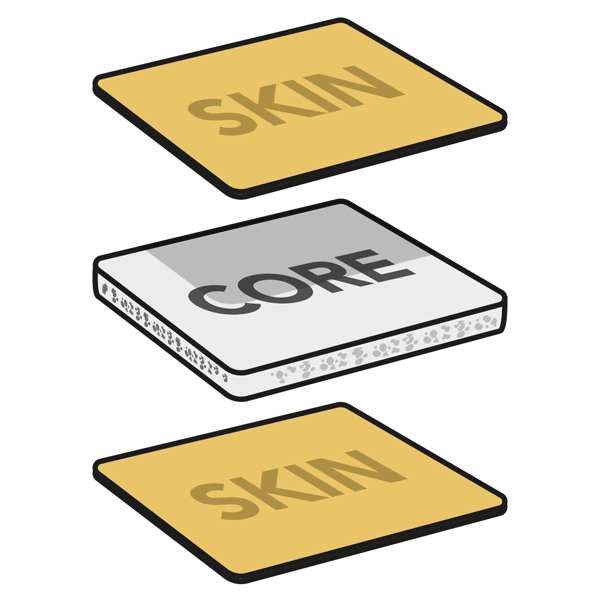 Based on the requirements of the object, foam can be:
open cell
closed cell
flexible, semi-rigid or rigid
in thermoplastic or thermosetting material
Foam provides excellent thermal and acoustic insulation and has a remarkable capacity for absorbing vibrations and impacts.
Added value
Trademarked in 2008, thanks to its versatility, Polimex®imposes no limits on form or dimension, thus leaving the interpretation of design and creativity in the hands of the Client. Thanks to its structural characteristics it is infinitely lighter than its traditional counterparts.
In addition, the semi-processed material requires a smaller amount of padding or foam to achieve the end product, thus reducing the overall quantity of materials used. Thanks to its composition, the finished product is comprised almost exclusively of Polimex® and the reduction of other components (wood, plastic) facilitates its recycling at the end of its lifespan. We work with internationally certified materials and are able to meet the specific needs of the Client. Polimex® is certified class 1-IM fire resistant thus reducing fire risk.